This post is mainly just pictures of our fun experience at the "Wonders of Wildlife" Museum & Aquarium in Springfield, MO. We heard about it through a friend + decided to go with my in-laws while they were in town. Guys, you are missing out if you don't make the trip to experience it for yourselves. Going into it we didn't have any clue what all it entailed, but we knew it would be a fun experience for Ezra. He is such an animal lover + we go to the zoo once a week. All he talked about on the way there was going to see "big fish". Our first stop was Lambert's Café in Ozark, MO. Personally I'm not a huge fan, but my husband loves it just because they throw rolls. Ezra was in heaven; all he could eat fried okra + hot rolls. Have you ever tried "hog jowl"? …It was on the menu + Zach decided to give it a whirl. He's never had it before + I haven't cooked with meat in 4 months so he jumps on any opportunity to eat meat. He assumed it would be a slab of meat; Nope, just a plate of bacon. I'm not kidding a full plate of salty bacon. Be sure to ask him how his tongue was later that night. On our way home he complained it felt like it had been cured from all the salt he ate! I'll share the picture of his plate.. If you ever want to try it, just be warned it is s-a-l-t-y.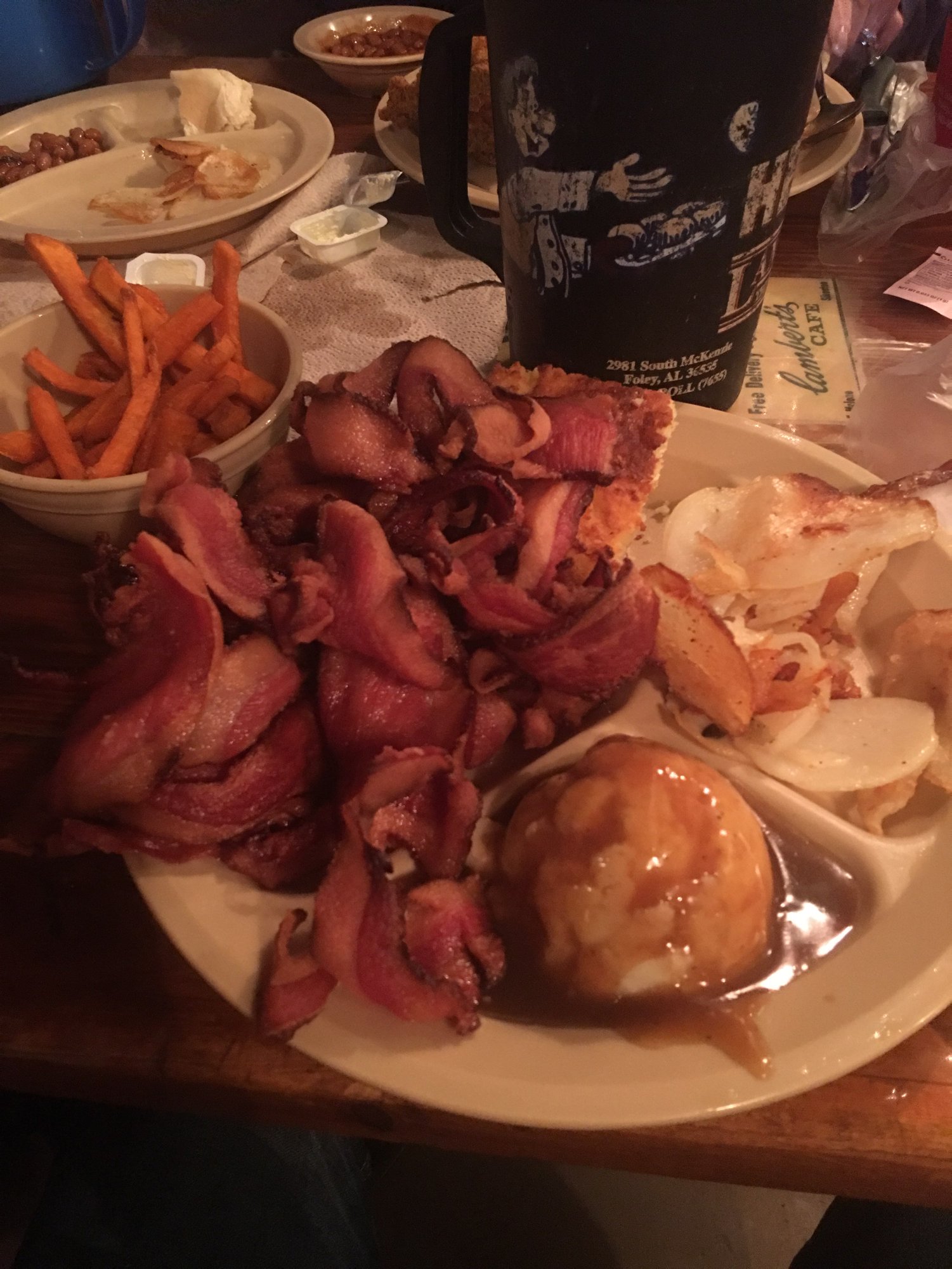 We made our ticket reservations for 1pm, they ask you if you're buying your tickets online to pick a time. We bought the combo ticket for the museum + aquarium. I didn't even think to bring in snacks for Ezra, honestly because I assumed it would take us two hours at the max. It took us 4.5 hours to make it through + we could have stayed longer, but we had a 3.5 hour drive home. Next time we will plan ahead + stay the night so we can spend all day! I heard somewhere that they have been working on this place for NINE years. With that said you can see it took an army of people to pull this off. Hats off to all the designers + builders. IT. WAS. AMAZING. Everything was so lifelike + educational. Ezra is obsessed with deer and there was a whole room of deer with unique antlers. I've never been a fan of hunting + I'm thankful I don't have a husband who hunts. (Mainly because I'm selfish + don't like him to be away from family) But in this room it had each deer head mounted, the name of the hunter + where they killed it. It was so neat seeing all the different deer from all over the country + learning about how the antlers are different. This was a "please, no touch" room – which is really hard for grandparents. Its easy for mom + dad to say no, but I've realized when it comes to grandparents I don't think the word 'no' is in their vocabulary.
It took you through each habitat/climate region or adventure. You get to see everything! Ezra is also in love with elephants so the African adventure was right up his alley. He pitched a fit when we couldn't stay at the elephants all day.
Then you end up at the aquarium. So from the outside this place doesn't look that big, but when you are inside you are constantly questioning how in the world all of this fits inside. Since I was a kid the aquarium has always been my favorite. Maybe because I think the ocean is so beautiful when you see all the amazing fish that live there. Unfortunately I'm deathly afraid to get in the ocean or lake for that matter. But I think it is mesmerizing. So getting to see all these amazing creatures with the safety of the glass is very comforting to me. Here are our pictures from the aquarium. There are so many areas we didn't get to stay as long as we wanted. I am already planning our next trip! Ezra is almost 2.5 years old + he didn't complain once at how long we were there. At the very end we could tell he was exhausted, but he never threw a fit, which if you know any toddlers you know that's a rare occasion. He didn't want to leave either. He loved it so much! I strapped Harvey to me so he had the luxury of sleeping + eating whenever he wanted, but next time I might bring the stroller just because it is such a long walk. Please, please, put this on your families' bucket list!
XO Colleen Cashio